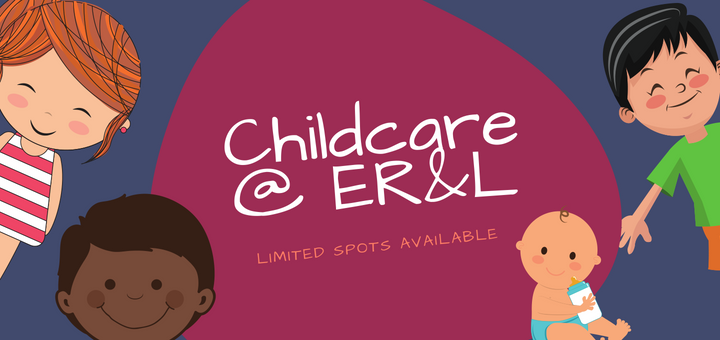 Caring for our families is near and dear to the ER&L team. As many of you know, planning the conference is a family affair. We have deep family roots and we know you do too! Being away from our children can be difficult, and in some cases impossible!
Once again we are excited to offer on-site childcare available for our attendees.
Our childcare center will be located right on-site at the AT&T Executive Education & Conference Center for easy accessibility and time for visiting. We will also have a designated space for nursing and pumping.
---
ACTIVITIES: We will supply toys and games for all age groups attending. Your children will be welcome to bring any toys, books, games, personal items along. Nap times will be based on the needs of the individual children, but the kids who don't need or want naps will have an alternative quiet activity.
---
MEALS: We will be providing healthy snacks throughout the day along with water, milk and juice. Please note that these foods will be for children who are able to eat unassisted. If your child is under the age of 1 OR should your child have any allergies or special dietary needs, we kindly request that you supply the snacks and drinks for your child.
Breakfast: Your children are welcome at the sponsored conference breakfast at the AT&T Conference Center. No extra cost for the kids or spouse/ partner/ traveling caregiver.

Lunch: Please pack a meal for your child in a container/bag labeled with his or her name. Our staff will administer on your preferred schedule, but we'll try to keep lunch at 11:30-12noon and afternoon snack at 3:30.
---
SCHEDULE: Childcare will be held at the AT&T Conference Center. The childcare room will open 30 minutes before the first session (~8:30am) and will close 30 minutes after the last session (~5:30pm).
---
COST: Parent/guardian cost is $175/child for the 3-day conference. A $50 deposit is required by January 7, 2019 to confirm your child's spot.
---
Registration is now closed.
TO REGISTER YOUR CHILD FOR ON-SITE CHILDCARE AT ERL19
Step 1: Complete this sign up form.
Step 2: Make your deposit here by purchasing a deposit ticket via Eventbrite.
We will then contact you to confirm your child's spot and answer any additional questions.
---
If you have any questions, comments or feedback on how we can support families, please contact us at hello@electroniclibrarian.org