Join ExLibris for lunch on Tuesday March 5th
Please join us for lunch at ER&L. In addition to good food, we'll provide an update on ExLibris products. We've introduced many new features recently in Alma, Primo, Summon and Leganto. We've continued development of Esploro and are getting ready to launch it. And, in partnership with ProQuest, we've announced Rialto, next generation selection. For all of these, we'll share road map milestones, and the real-world benefits of the features shared and we'll answer your questions. Hope to see you there!
---
Luncheon Sponsored by: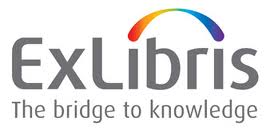 Ex Libris, a ProQuest company, is a leading global provider of cloud-based solutions for higher education. Offering SaaS solutions for the management and discovery of the full spectrum of library and scholarly materials, as well as mobile campus solutions driving student engagement and success, Ex Libris serves thousands of customers in 90 countries. For more information about Ex Libris, see our website, and join us on Facebook, YouTube, LinkedIn, and Twitter.
Visit ExLibris at Table 611 in the Exhibit Hall