Exploring Data Science Programming at ER&L 2019
Data Science is the process of gaining insight from data to inform decision making. In libraries, there are a wide gamut of 'data savvy' roles that orbit within and around the world of data science. From the metadata librarians automating curation workflows to the collection managers gaining insights into their collections, to the subject librarians working closely with researchers, the roles in libraries exist more or less on a data-savvy spectrum to solve challenges and to improve services.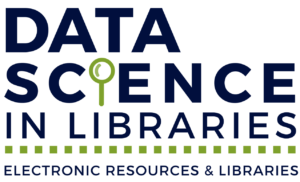 How has your library made sense of complex datasets to make better decisions?
How have data science skills within the library improved services with user communities?
What unique partnerships formed around teaching or using data science on campus?
What are the unique roles libraries can have in data science and management?
Because data is driving decision making at the library, ER&L is looking at these kinds of questions and topics:
Data visualization to improve decision-making or to tell a story
Text and data mining
Networks and linked data
Data science training and best practices
Data management, analysis, and digital curation
Data storage and access
Open science and digital humanities
Documentation and Metadata
Data ethics considerations
Research workflows and automation
Research computing and reproducibility
This track was creating in partnership with Chris Erdmann from Library Carpentries. Chris says, "In the IMLS funded Shifting to Data Savvy report, one of the top recommendations highlighted the need for a venue where libraries can share their data science-related work. ER&L seemed like a perfect venue to do this. Bonnie and the organizers are always looking to support new approaches in libraries and to find ways to integrate them into the overall program. It seemed like a great way to include more people in the conversation."
Bonnie Tijerina, founder of ER&L said, "After working with Chris and a team at the University of Pittsburgh, I knew I wanted to bring more sessions on data science to ER&L. There's a lot we still haven't explored in terms of how we can best utilize data science to improve our organizations and services for our communities. Hopefully our line-up as well as other sessions at ER&L will get us thinking more about data science in libraries."
View the full ER&L 2019 Program highlighting Data Science in Libraries