How Are Digital Primary Sources Being Used?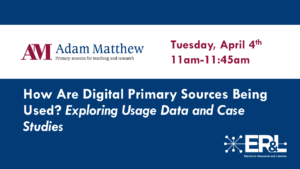 How Are Digital Primary Sources Being Used?
Exploring Usage Data and Case Studies
How are Humanities students and scholars using digital primary source materials? We have mined usage data from all Adam Matthew resources to explore user trends, popular subjects, topics, and tools in digital primary source research and teaching. With the help of Michael Levine Clark, Dean of Libraries, University of Denver, we've analyzed patterns and visualized usage data from Adam Matthew's global customer base to assess how students get to the primary sources they need or how students use the digital platform to enhance their primary source research. This is coupled with a series of interview case studies from users at universities across the world to understand the motivations and environment primary sources reside in for humanities and social science scholars. We hope to provide a study that not only reflects on the independent student and faculty research but digital primary sources in the HE teaching environment as well.
| | |
| --- | --- |
| Event | Details |
| Time | 11:00am – 11:45am |
| Date | Tuesday, 4/4/2017 |
| Room | 202, main level |
| Sponsored by | |