Exhibitor Logistics

*This page is for 2017 exhibitors to prepare for ER&L 2017.
REGISTRATION
Pre-registration for the conference can be done via the unique registration code each company was provided and we can easily resend this if needed. If you are not sure you have registered all of your staff or you are a rep and are not sure if you are registered, please contact us at hello@electroniclibrarian.org to confirm your registered staff.
All exhibitor reps that are registered are full conference registrants and welcome to join all ER&L sessions.
A current list of registered attendees (pulled March 27, 2017)  can be found here.
---
TRAVEL & HOUSING



If you have not booked your hotel accommodations yet, we highly recommend doing so ASAP.
---
BADGE PICK UP



Exhibitor/Sponsor reps may pick up badges at any time registration is open starting Sunday (4/2) at 10am at the AT&T Executive Education and Conference Center registration desk. All reps should have badges by Monday (4/3)  at 9am to be prepared for the opening of the Exhibit Hall.
---
EXHIBIT SCHEDULE
SUNDAY, April 2

Badge Pick-up
   10:00am – 9:00pm – Main Registration Desk
Exhibit Table Set-up
   3:00pm – 9:00pm – Ballroom – 3rd Floor
Welcome Reception hosted by UT Austin
   5:00pm-6:00pm – Perry-Castañeda Library

MONDAY, April 3

Exhibit Hall Opens to Vendors ONLY/Morning Setup
   7:00am – 9:15am
Exhibit Hall Opens to Attendees
   9:15am – 7:30pm
Dedicated Attendee Break with Exhibitors
(No programming will be held at this time)
   9:15am – 10:00am
Lunch Break – Exhibit Hall Open*
(You are not required to staff your booth during this time, but the hall WILL be open to attendees)
   11:45am – 1:15pm
Dedicated Attendee Break with Exhibitors
(No programming will be held at this time)
   3:00pm – 3:30pm
Vendor Reception
(No programming will be held at this time)

   5:15pm – 7:30pm
Tear down
   7:30pm – 8:30pm

TUESDAY, April 4




Tear Down
   7:00am-9:00am
---
TABLE ASSIGNMENTS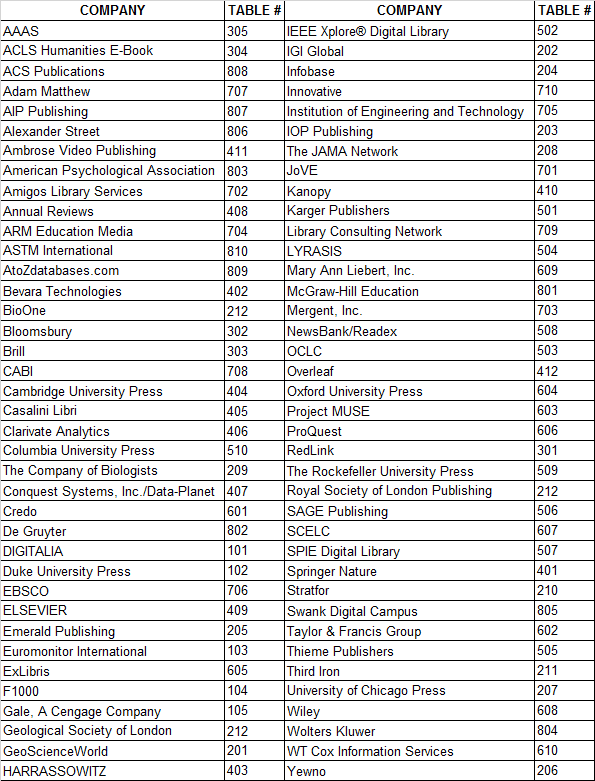 ---
EXHIBIT TABLE SET UP & TEAR DOWN



Setup has changed from previous years and is now on SUNDAY from 3pm-9pm. Boxes will be staged by your tabletop and ready for you. This will hopefully allow you some extra time to be prepared for Monday morning!
Tear Down is schedule immediately following the Vendor Reception on Monday. Additional time will be available Tuesday morning from 7am-9am for those not able to tear down on Monday night. All materials must be removed by 9am Tuesday for the start of sessions.
---
EXHIBIT TABLE DETAILS
Each exhibitor and sponsor will have a table in the Exhibit Hall. Included in your tabletop exhibit package:
2 complimentary Conference Registrations
Name and Logo with link to your website on the ER&L Conference Website and Online Program
Wi-fi access
(1) 6-foot X 24-inch table dressed in a solid black cover from top to bottom. Table height is 29 inches.
Access to a standard electrical power strip with 20AMP power
2 chairs at each table

Due to the new layout of the exhibit floor, floor-standing signage behind the 6-foot table is permitted

---
AUDIO VISUAL & WI-FI
Laptops and screens are permitted
A taped down power strip will be accessible within ~6 feet of your table.
(We have planned for a power drop per each 2-3 tables.)
Wireless internet access is available to all attendees in the AT&T Center. Our experience is that this bandwidth is robust and at full strength in all locations including the exhibit location.
You are allowed to pass materials at the event; however, as a digital conference, please keep in mind that attendees will not likely have a bag to carry paper materials.
If you have supplementary AV needs, you will need to complete the 3rd page of the Exhibit Shipping + AV Order Form
---
LEAD RETRIEVAL



Lead retrieval is available  and will be provided through the Bartizan iLeads Cloud-Based Lead Retrieval App. View the order form to learn more.
---
SHIPPING
All vendors shipping boxes must complete a shipping form linked on this page. Please target your shipments to arrive on Thursday 3/28/17. Download Exhibit Shipping + AV Order Form
Please feel free to contact the Conference Concierge Abby Vela directly at 512-404-3688 or abigail.vela@attconf.utexas.edu if you have any package receiving questions.
---
ER&L for PROFESSIONAL DEVELOPMENT + NETWORKING
We understand that travel times and other commitments may not permit attendance at all events, but we'd love to have you participate as much as your schedule permits. These sessions are a product of excellent library/ industry partnerships and there is much to learn. Be sure to take advantage of breakfasts and the continuous snack and beverage service during the conference. You are welcome and encouraged to grab the beverages and snacks to take with you for a customer meeting in the courtyard between the hotel and conference center in the generous and comfortable seating area.
A current list of registered attendees (pulled March 11, 2017)  can be found here.
---
CONTACT
Please contact us at hello@electroniclibrarian.org. Do not hesitate to reach out with any questions.
We look forward to seeing you in Austin!