Fundamentals of Licensing and Negotiation
W08: Fundamentals of Licensing and Negotiation
Post-Conference Workshop  |  Wednesday, March 6, 2019  |  1:00 – 5:00pm 
Presenters:  Anjana H Bhatt and Claire T. Dygert
Conference Track: Managing e-Resources & Licensing
Electronic resource librarians are expected to communicate with publishers, library directors, university legal counsel, procurement, systems, ILL departments, fellow librarians and library staff as experts in e-resource licensing.  In addition to understanding licenses, electronic resource librarians are expected to negotiate licensing terms and conditions, including pricing, with vendors.  Yet electronic resource librarians are not usually trained in either legal matters or negotiation theory and strategy, making it a daunting prospect to those new to the responsibility.  This course will provide the fundamentals that will prepare e-resource librarians to step-into these roles with confidence.
This course will be broken down into two parts.  We will begin with a section on license agreements which will provide an overview of the role of license agreements in the electronic environment, walk the attendees through a typical license, and discuss the issues that various sections and clauses may present.   We will discuss emerging licensing trends and issues, such as the new General Data Protection Regulation (GDPR) which is making licensing products from Europe a challenge. We'll look at SERU, some model licenses, and various pricing negotiation factors, including user levels, FTE factors and university classification tiers. We will conclude with a discussion of the practicalities for reviewing and editing license agreements and creating schedules and addenda that cover additional terms and requirements not generally part of a standard agreement.
Section two of the course will focus on helping attendees develop negotiation skills and the confidence to employ them.  Using the basic tenants of the Harvard Negotiation Project's principled bargaining practices, published in Getting to Yes, attendee will learn solid negotiation fundamentals and how to take a systematic, informed approach to negotiating.  We will also discuss a strategy for working with vendors from year to year to keep annual renewal costs down over time.  Tips and strategies for handling various negotiation scenarios will be provided, with a break-out session for attendees to collaboratively problem solve a challenging negotiation situation.
After this workshop, participants will be able to: 
Understand the importance of license agreements in preserving fair use and other rights of users.
Understand the typical structure of license agreements and standard clauses.
Communicate knowledgeably with vendors and legal counsel about license agreements, particularly where changes to the agreement are desired.
Use Word's "track changes" and "comments" feature to mark-up license agreements and explain requested changes.
Develop and use licensing best practices documents to support licensing efforts.
Understand the dynamics of negotiation.
Plan for a successful negotiation experience.
Use information to support their negotiating position.
Develop a systematic strategy for negotiating low-to-no price increases for e-resources.
Negotiate with confidence.
About the presenters: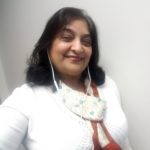 Anjana Bhatt is working in the field of librarianship since 1978.  Her education includes an MA in English, MLIS and MS in Information Resources Management from Syracuse University, New York. Trained in each and every library department, Anjana holds a unique experience of working in special, research and educational libraries in national and international settings.
Currently Anjana works as E-resources Librarian at Florida Gulf coast University Library and her chief responsibility is to manage all aspects of electronic resources through their life cycle of 'trials-license negotiations-acquisition-maintenance-usage data-renewal-cancellation'.  She has conducted several workshops and trained over 300 librarians at ALA, ACRL and Charleston conferences. Her research interest includes Electronic Resources Management and Open Access Publishing.
"Start by doing what's necessary; then do what's possible; and suddenly you are doing the impossible." – Francis of Asisi

Claire Dygert ownsCDygert Solutions, a results-driven consulting company that provides services to all types of libraries and library consortia. Her areas of expertise include e-resource acquisition and management, statewide contract negotiation for online content, digital services, strategic planning and organizational change. Prior to launching CDygert Solutions, Claire served as Director for E-Resources and Digital Services at the Florida Academic Library Services Cooperative (FALSC), an organization that provides services to the libraries of the 40 public institutions of higher education in Florida. In the area of e-resources, she managed a $7 million e-resources budget, oversaw a group licensing process valued at $1.5 million, and negotiated and managed over $16 million in large statewide e-journal packages and other STEM contracts. In the area of digital services, she had responsibility for the Florida Digital Archive (FDA) and the long-term preservation system DAITSS, the statewide implementation of the digital platform Islandora, and the Florida Online Journal System, among other digital services.