All Things Distributed: Collaborations Beyond Infrastructure, Closing Keynote by Robert McDonald Announced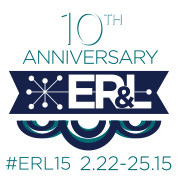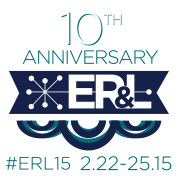 Join us for ER&L's 10th Anniversary Conference closing keynote session from Robert McDonald entitled, "All Things Distributed: Collaborations Beyond Infrastructure" on February 25, 2015 at 11:00am Central/12:00pm Eastern.
ACCESS THE LIVE STREAM NOW
All Things Distributed: Collaborations Beyond Infrastructure
In the
inaugural keynote for ER&L 2006
, I spoke about the future: a software-enabled world where computing infrastructure becomes a distributed baseline commodity like electricity, or water. This closing keynote will explore the possibilities inherent in library collaborations built on today's post-infrastructure reality. The readily-available distributed cloud computing environment simplifies and encourages virtual partnerships/organizations, shared computation and collaborative software development. The degree to which we as the library community, through strategic cultural and monetary investments, embrace and enable this distributed collaboration will shape the destiny of our libraries for years to come.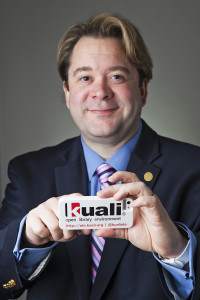 Robert H. McDonald
oversees the technological infrastructure and innovations that facilitate, support, and enhance the Indiana University Libraries collections and services. As the Associate Dean for Library Technologies, which includes oversight of the statewide Indiana University Integrated Library System, IUCAT, McDonald is the co-principal investigator on several technology-related libraries initiatives including the HathiTrust Research Center, a digital library initiative providing large-scale data access, and the SEAD DataNet Program, focused on enabling data life-cycle management for sustainability science.
McDonald is also the Deputy Director of the Data to Insight Center at Indiana University's Pervasive Technology Institute, responsible for collaborative projects that utilize mass data storage, data analysis, data curation, and data cyberinfrastructure. In recent years, he has served as Founding Executive Director and now Director of Community Development for Kuali OLE, a multi-institutional initiative to develop open source library management software. He currently serves as a technical advisor to the Digital Public Library of America (DPLA), as a member of the HathiTrust Program Steering Committee, and as an advisor to the Child Care & Early Education Research Connections Program.
Prior to joining the IU Libraries, McDonald held senior management positions with the San Diego Supercomputer Center at UC San Diego and Florida State University Libraries. He is an active writer and speaker, covering diverse topics in library and information science including open source software, storage systems, data analytics, marketing, metadata, and collaborative digital preservation.
This session will stream freely for the library community with support from IGI Global. 
Session sponsored by