New Bloomsbury award available for ER&L 2018
ER&L is very pleased to announce this new award for $1000 of travel support to attend ER&L 2018 in Austin, Texas. This award is open to librarians from the US and Canada this week only!
Scholarship Amount: Bloomsbury Digital Resources will select 1 winner to receive a travel grant of $1000.
Application Deadline: Friday, February 9, 2018
Applicants must:
Currently work as an academic librarian  
Provide a Curriculum Vitae
Submit short essay (up to 1,000 words) discussing of the 'Potential Topics:'
Potential topics: (Select one topic)
How they will benefit from attending the 2018 ER&L Conference.
Describe your ideal day at the 2018 ER&L Conference.
What do you enjoy the most about the ER&L Conference?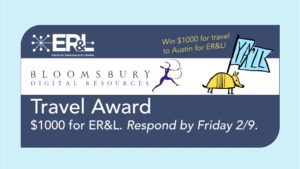 Applicants must be in the United States or Canada.
All application documents should be sent electronically in PDF format to Michelle Kelly at Bloomsbury Digital Resources (michelle.kelly@bloomsbury.com)  by Friday, February 9, 2018.
Scholarship money must be used to attend the 2018 ER&L Conference.
Please use the following naming conventions: 
Last Name, First Name, Document Name (Essay  OR CV)
Example: Jimenez, Marianna, Essay.pdf