Call for Papers deadline is here!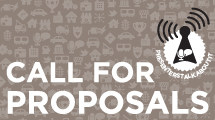 Last chance to submit in response to the 2016 Call for Proposals. Review the tracks, requirements and submit to ER&L today. If you're planning to attend ER&L, a friendly reminder to book the official ER&L hotel before on property sells out and to register before early #erl16 rates end. Happy submitting!
If you have any questions about the submission process, contact us at eresources [dot] info [at] gmail [dot] com for a prompt reply.