Enjoy Wellness@ER&L – Daily activities for you to enjoy in Austin
ER&L is so very pleased to share theses Wellness@ER&L activities.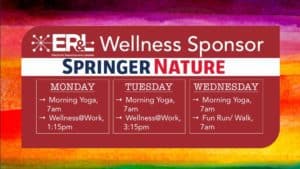 Wellness Options at ER&L 2018
Morning Yoga – Mixed Levels Vinyasa
This flowing class links movement to breath through a full range of poses, with options for beginners and experience students alike. (Mats and towels provided.)
Offered: Monday at 7am. [Attend]
Offered: Tuesday at 7am. [Attend]
Offered: Wednesday at 7am.  [Attend]
Wellness@Work – Chair Yoga with Guided Meditation
Life contains some tension-inducing circumstances. Relaxation is a skill that can be cultivated through learning and practice. Chair yoga can cultivate your awareness of breath with gentle movement.
Offered: Monday, 1:15pm  [Attend]
Offered: Tuesday, 3:15pm.  [Attend]
Fun Run / 3K Walk
Join your colleagues and friends on a casual morning run or walk through the pedestrian-friendly paths around the UT Austin Campus.  Get some early morning air as you head past the beautiful new installation at the Blanton Museum and Longhorns Stadium. End at the AT&T Center with a breakfast taco courtesy of Spinger Nature.   View the 3K course map  — which can be doubled for those looking for a longer run.
Offered: Wednesday, 7am [Attend]
Meet the Instructor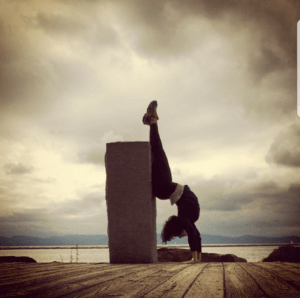 Lauren O'Hara, RYT 200 | Teaching since 2016 – Vinyasa Yoga
Lauren's  yoga practice began in 2004.  She played a variety of sports in high school and college. She began to have a need for something in addition to her physicality that would include a sense of spirituality and inner peace. It wasn't until 2011 that Lauren realized yoga was becoming an area of deep seated fulfillment in her life.  She found it refreshing that every day the expression was different and that her practice could allow her to quiet her mind so that she could set a different intention for herself.
Lauren finds her yoga practice a good balance to her previous passions of running and traveling, as it allows her to push her boundaries and test what is within her limits physically and mentally.  Lauren completed her 200-hour yoga teaching certification through The Yoga Garden in 2016. She felt privileged to be under the tutelage of Chae Yang, Mark Nelson, and Nikki Robinson.  As a dancer, she particularly enjoys the beauty and expression of movement through vinyasa flow.
Lauren's classes encourage you to build strength, flexibility, and balance through creative and dynamic movement.  Lauren sees yoga as a part of a holistic approach to healing and wellbeing. She will encourage you to discover this by connecting with your breathing and gaining body awareness. Her classes provide a light and playful atmosphere so you can feel at ease while expanding your own limits."
Wellness@ER&L Organizers
These daily classes and the Fun Run/ Walk came together with the efforts of fine folks from our Wellness Committee, Fun & Games Committee and Local Organizers. A sincere thank you to:
Christina Cool
Nicole Ameduri, SpringerNature
Jesse T. Koennecke, Cornell 
Ronda Rowe, UT Austin
Wellness@ER&L Sponsored by