#erl14 Sessions by Track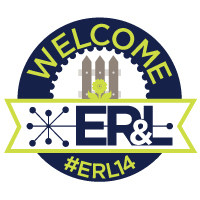 This post includes a list of the ER&L 2014 sessions by submission track as of 12/29. Sessions will be organized by session threads and into presentation slots day by January 22. (All ER&L presenters will be notified when presentations times are finalized.)
If you are looking for more information…
–ER&L's detailed submission track descriptions? Click here.
–Register for ER&L 2014, click here.
–View the Program Search tool to view session details like presenter names and session abstracts here. 
1. Managing e-Resources & Licensing
A Long Term Strategy for E-Resources Workflow Management
Best Practices for Demand-Driven Acquisition of Monographs: Recommendations of the NISO DDA Working Group
CORAL User Group Meeting
CrossRef's Text & Data Mining Service
ERM, Party of One? Managing Electronic Resources from Start to Finish with a One-Person Department
Global Open Knowledgebase: harnessing emerging technologies to support ERM
Here, There, and Everywhere: Where Do MARC Records for eBooks Come From?
How Do We DO That? : Electronic Resource Management in a Next-Generation ILS
Instalibrary: Real-Time Automation of e-Resources in the Cloud
Not Always Discovered: Phase Two of a Study of the Effect of Discovery Systems on Online Journal Usage
Oh past self, come here and let me kick you in the shins
Practitioner Perspectives of the Core Competencies for Electronic Resource Librarians: Preliminary Results of a Qualitative Study
Pursuing Perpetual Access: Results of a Survey on Perpetual Access Outcomes
Techniques for Successful Negotiation
The Lasso and the Firehose: Tools of the E-resources Troubleshooting Trade (Results of a Survey)
The STL Curve Ball: In search of a sustainable Short Term Loan model
Usage of E-books with Enriched Bibliographic Records
*WORKSHOP | Developing Workflow from TERMS: techniques for electronic resource management
*WORKSHOP | Introduction to Project Management for Libraries
2. Collection Development & Assessment
Borrow vs. Click: comparing the usage of print and e-book equivalents of Course Adopted Books
Collection Budget Management and Individual Article Purchase
Collection Management Workflows: The Cart versus the Horse
DDA 2.0: Evidenced-Based Selection of E-Books
Deselecting, Digitizing, and Assessing Print Journals in an E-Preferred environment
Diving into E-book Usage Navigating the Swell of Information
European eBooks & eJournals in Humanities & Social Sciences
Getting it Together With Intota: How Does this Work in an Actual Library?
Making Usage Data Meaningful
OneSearch: Transforming Collections by Increasing Discoverability? A Usage Data Analysis
PDA, Firm or Package, assessing the ROI on collection models for electronic books
Shared library services: where there's a value in numbers
The stories we can tell: ebook usage in academic libraries
What is your data dying to tell you? Exceedingly useful tips, tricks, and secrets
What's the use? Beyond COUNTER: The changing definition of in an open access economy
3. Organizational Strategies
Breaking Silos: Interdepartmental Collaboration for Better Electronic Collection Development
Bringing Digital Collections Into the Fold: Reorganizing to Integrate Digital Content Workflows into Collections & Tech Services
Human TERMS of Engagement
Programming for Serendipity: A Conversation
Reorganizing Staff and Workflows for Optimal Eresources Management
TAIGA Panel: An Open Discussion on Leadership
TAIGA Roundtables: Sit down and discuss topics with Administrators
The Nexus Between ERM and Access Services
*WORKSHOP | Forever Changes: Cultivating resilience in times of change, challenge, uncertainty and opportunity
*WORKSHOP | IMPROV in the workplace? Improve in the workplace. Using improvisation techniques to cultivate dynamic and effective communication at work (or anywhere)
4. External Relationships
Collaborative Cataloging
Playing nicely in the sandbox: How new Library Management Systems require a resurgence of relationship building.
Playing Nicely Together: The Ins and Outs of improving metadata for libraries, content providers and discovery services vendors
Through the Looking Glass: Do Librarians and Publishers See Each Other as Mad Hatters or White Rabbits?
*WORKSHOP | Influencing and improving products: structured interface reviews
5. User Experience
Discovery Data as Your Driver: Enhancing Library Services with User Behaviour Data from Discovery Systems
E-Browsing: Serendipity and questions of Access and Discovery
How Helpful is Web-Scale Discovery? A Usability Study with Undergraduate Students
Making Data Less Daunting: Using Data Refinement Tools to Improve User Experience
Mobile resource problems: Authentication and usability
More Licenses, More Problems: How to Talk to Your Users About Why eBooks are Terrible
Never Mind, I'll Just Buy It: Why Users Won't Jump Through Library Hoops
Spreading the Word about the Best Kept Secret in your library: Coordinators for three different state-wide digital libraries share ways they promote their resources to patrons, students, librarians and the public
6. Scholarly Communication
Across the Cycle and Beyond the PDF: Libraries and Librarians Innovating Scholarly Communication
Dissertation to Book: Educating Graduate Students about Open Access
Finding the Good Ones: Strategies for Evaluating Open Access Resources
Introducing OAWAL: crowdsourcing best practices for open access workflows in academic libraries
What's Needed in Standards for AltMetrics? It Takes a Village.
*WORKSHOP | Electronic Resources & Data Management: A Love Story
7. Library as Publisher
Walking the Walk: Starting Up and Cultivating Two Different Open Access Journals in LIS
8. Emerging Technologies & Trends
An electronic resources workflow utilizing push technology: Business Process Management
Cleaning the Metadata Mess: Using OpenRefine to Transform and Share your Library's Data
New Technologies, Collaboration, & Entrepreneurship in Libraries: Harnessing Their Power to Help Your Library
Patron Privacy in a Surveillance State
Stories from the Front Lines: MOOCs and Online Learning
*WORKSHOP | Outsourcing work to your computer
*All workshops take place on Wednesday, 1-5pm at ER&L in Austin. These 4 hour courses require a separate registration fee and are not available to online conference participants.