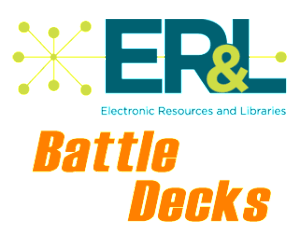 Have you ever felt like you were presenting about a topic you have just heard about, using slides you have never seen before? Well, here's your chance to do it by choice…for fun. Battle Decks ER&L is coming to Austin, Texas.
"Remember that dream you had about showing up to your interview in your pajamas?" – Unknown future Battle Decks ER&L runner-up
What is it? Battle Decks ER&L is ER&L's version of Battledecks or Powerpoint-Karaoke. Participants will present a topic (provided just before they begin), for 3-4 minutes, accompanied by 10-15 PowerPoint slides specially selected by our team of 10,000 monkeys. Not only is no preparation required, it is actually preferred.
An esteemed panel will judge the participants base on a criteria ranging from the quantitative use of time and slides to the qualitative general composure and ability to address the topic. A certain amount of artistic license is expected from both participants and judges in their work.
"It is the perfect non-contact sport for librarians." – Jan the Librarian
When is it?
Battle Decks ER&L will be held around 7:00 pm during the Vendor Reception and Tabletop Exhibit on the Monday of ER&L, March 17.
How do I get involved?
We're looking for a few hearty folks to join in as:
Participants – Sign up early to secure your spot.
Judges – We need 3-4 semi-impartial folks.
Volunteers – We'll need a few folks on hand to help run the show.
If you are up for any of these roles, please contact Jesse Koennecke (jtk1@cornell.edu).
"'It will be fun', they said." – Anonymous