Join us for Battle decks @ ER&L 2018
BattleDecks@ER&L 2018 – Be there!
The fifth annual BattleDecks@ER&L is at hand. Hone your public speaking, nonsense making, and shenanigan managing skills.
What is it? Battledecks or Powerpoint-Karaoke.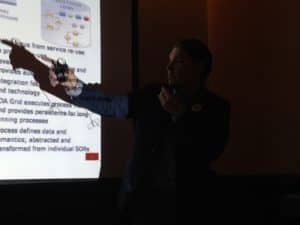 Participants will present a topic (provided just before they begin), for 3 to 3 and a half minutes, accompanied by 10-15 PowerPoint slides selected and arranged by our team of experienced library scientists. No preparation required, No preparation allowed, actually. Participants will be judged (by other library scientists), based on a criteria ranging from the quantitative use of time and slides to the qualitative general composure and ability to address the topic. A certain amount of artistic license is expected from both participants and judges in their work.
When is it?
Battle Decks ER&L is Monday, March 5, beginning at 7:30 pm following the Vendor Reception & Tabletop Exhibit in the Exhibit Hall adjacent Room 301.
How do I get involved?
We're looking for a few hearty folks to join in as:
Participants – Sign up early to secure your spot. We're looking for up to 8 contestants.
Volunteers – We'll need a few folks on hand to help run the show as timekeepers, random drawing wranglers, and stern security
If you are up for any of these roles, please contact Jesse Koennecke (jtk1@cornell.edu or @JayTeeKayOne) or sign up at the ER&L Registration Desk.
BattleDecks @ ER&L Hall of Fame:
2017 – Daniel Huang and Rebecca Blakiston
2016 – Lisa Martincik
2015 – Anna Creech and April Hathcock
2014 – Carmen Mitchell