E-Resources and Libraries 9th Annual Conference took place in Austin, Texas and Online March 16-19, 2014.View what you missed in the Online Conference archive available for purchase at the individual or organizational level.
---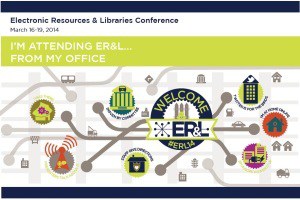 View the agenda for online sessions
The online conference archive contains over 30 hours of sessions at ER&L. Some of the sessions included in the online conference include these excellent sessions:
Monday highlights Keynote: Freeing Knowledge: A Values Proposition by Barbara Fister, Gustavus Adolphus College Getting it Together With Intota: How Does this Work in an Actual Library? Best Practices for Demand-Driven Acquisitions of Monographs; Recommendations of the NISO DDA Working Group Making Usage Data Meaningful Publishers Are from Mars, Librarians Are from Venus – NOT!: an Open Discussion Understanding Social Media and the Library User Experience: Be Interesting, Be Interested Borrow vs. Click: comparing the usage of print and e-book equivalents of Course Adopted Books Collection Management Workflows: The Cart versus the Horse The STL Curve Ball: In search of a sustainable Short Term Loan model
Tuesday highlights Collection Budget Management and Individual Article Purchase An electronic resources workflow utilizing push technology: Business Process Management Garbage Dump or Buffett: Librarian Adoption of Web-Scale Discovery Services How Helpful is Web-Scale Discovery? A Usability Study with Undergraduate Students More Licenses, More Problems: How to Talk to Your Users About Why eBooks are Terrible
Wednesday highlights Keynote: The Mining and Application of Diverse Cultural Perspectives in User-Generated Content by Brent J. Hecht, Ph.D., University of Minnesota What's the use? Beyond COUNTER: The changing definition of in an open access economy Making Data Less Daunting: Using Data Refinement Tools to Improve User Experience Playing nicely in the sandbox: How new Library Management Systems require a resurgence of relationship building. Deselecting, Digitizing, and Assessing Print Journals in an E-Preferred environment EZProxy for Electronic Resource Librarians Reorganizing Staff and Workflows for Optimal Eresources Management
A full list of included sessions may be seen shaded in the agenda of sessions here: 2014 ER&L Sessions by Day.
---
What are the 'rules'?
Q: Do I have to watch the online conference from the office only? What if I want to start to view on one computer and then want to finish up on my iPad at home? A: You can watch the sessions from home, the office or from your tablet, on a Mac or PC.
Q: Do I need the online conference group registration? A: If more than 1 person from your organization is watching the content we're putting in the online conference, it makes a lot of sense to go for the group. It is less expensive than adding 2nd online conference archive single user account.
Q: Do I have a limit when I purchase the online conference group registration? A: We will provide access to login and password credentials that will allow up to 10 simultaneous logins. If you need more, let us know. We praise the idea of having viewing parties (even post ER&L) and encourage you to gather up and view together or make a choice to catch a session as a team. If you do gather up, tweet us a picture, please, and we'll send you a little something!
---
These fine organizations participated in ER&L Online:
Yale University Library
Western Libraries, Western University
Wellesley College
Washington University in St. Louis
Wake Forest University
UNTHSC/ Lewis Library
University or Washington Libraries
University of Northern Colorado
University of North Carolina Wilmington
University of North Carolina at Chapel Hill
University of Nevada, Reno
University of Missouri Libraries
University of Maryland
University College
University of Louisville
University of Colorado
University of California Irvine
University of Arkansas for Medical Sciences
UNC Charlotte
State University of New York at Oswego
SEFLIN
San Francisco Public Library
Salisbury University
Ruth Lilly Medical Library
Indiana University School of Medicine
Queens College Library
Portland State University Library
Olin Library/Rollins College
Northeastern University – Snell Library
NIST Research Library
NIH – National Library of Medicine
New York Public Library
New England College of Optometry
Metropolitan Museum of Art
Marshall University Libraries
Lincoln Land Community College
Kansas State University Libraries
Indiana University
South Bend Indiana University
Houston Baptist University
Harvard Libraries
Georgia Tech Library
Georgia State University Library
Federal Reserve
Bank of Minneapolis
Eastern Michigan University
Dinand Library, College of the Holy Cross
Courthouse Libraries
BC College at Brockport
Cleveland State Community College Library
Clemson University Libraries
Butler Community College
Boston College
Appalachian State University
American University Library