<– Back to Presenter Logistics

Registration
Speakers are extended a discounted registration fee of $425 for the conference + online conference video/audio archive.
Access to the Conference Archive will automatically be sent to you post-conference.
If you registered already at a higher rate or you need the discount code, please contact us.
---
Housing & Travel
All available housing options are listed here. Please be sure to book early for the most availability and best rates.
We recommend arrival on Sunday PM and departure Wednesday early PM to partake in the core conference.
Please review the program schedule when planning your travel dates.
If you are considering taking or are teaching a workshop course, those arrival dates will vary by ~1 day to allow for the pre-conference or post-conference course.
---
Setup & Presentation Time
All materials should be prepared prior to the conference. The only printing capabilities onsite at the conference are in the business center with basic black & white/ 8.5×11.5 paper printing available.
Posters will be viewable to attendees for a full conference day, either Monday or Tuesday. Your final date assignment and poster number are posted on Sched.
While your poster is on display there will be an Attended Poster Session for authors to staff their poster and make a small presentation or answer questions from attendees (this assignment can also be found on Sched). Poster Presenters are expected to be at their posters during this time.
Posters must be mounted by 8:00am on the day of your poster session.
Presenters are responsible for mounting their own posters and removing them. Posters left on the boards after the teardown time will be discarded.
---
Display Area
Each poster presenter will be provided with a 36 inches tall x 48 inches wide foam core poster board on which to affix your poster. Tape, push pins and binder clamps will be provided.
A map of the poster boards will be available onsite.
A small table will be provided for you to place handouts or other supplementary materials. Supplementary materials left behind after tear down will be discarded.
Poster tubes can be stored in the Speaker Ready Room.
---
Content Specifications
Presentation Tips: Whether you are presenting for the very first time or this is "old hat" to you, we've compiled some tried-and-true tips to ensure your presentation is well received.
No commercial activities or any advertising may be displayed on the posters. Non-compliance with this rule will result in the poster being removed.
To ensure all attendees can view your poster, please review these accessibility content recommendations:

Your poster must be able to be read comfortably from 6 feet away.
Font should be at least 20pt and in a sans-serif fonts. One of the most accessible fonts is Arial followed by Calibri, Century Gothic, Helvetica, Tahoma, and Verdana.
Use a color scheme that provides enough contrast between the text and the background that is easy to read. When in doubt, black and white or navy and white are your best options with primary colors as accents.
Images should be at least 5 inches in size with graphs and data sets large enough to be interpreted from a minimum of 6 feet away.

Optional Logo – If you'd like to include an ER&L logo on any or all of your slides you can access this file: OFFICIAL LOGOS
---
Presentation Slide Upload – Optional
If you would like to have your poster available to the online conference attendees as well as to the in-person attendees after the conference, please submit your poster Dropbox by March 5, 2020.
Review the Accessibility Guidelines to ensure all attendees can view your slides if you are submitting to the Dropbox folder (see below).
Save your file "Session Number – Session Title"

Why? Many titles contain the same keywords so be sure to enter your session number and full title. This will be the best way for staff to distinguish your file from another.
Session Numbers can be found in your acceptance letter and on Sched
Presenters may also include handouts or other supplementary materials. Files should be named "Session Number – Session Title – Handout"

Upload the file to our private Dropbox folder by March 5, 2020.

YES, presenters can choose to not share slides if data is not available for distribution, but we strongly encourage sharing the presented information since that is the core of what we're facilitating at the conference.
Presentation files are private until they are not. ER&L staff are the only individuals with access to this folder so your information will remain private until the meeting when conference attendees in Austin and around the world will be able to access an online version of all the presentations that we have secured approval to share.
---
The Green Room/ Speaker Ready Room
Presenters can meet and practice in the green room. Work out your nerves or just work on… work, in a room for you with access to power, dry erase boards and lectern to practice your presentation.
The in-room equipment is available to test your presentation. Visit during a break or breakfast in the actual presentation room you are assigned.
---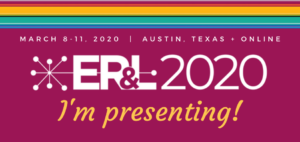 Session Promotion
Want to promote your session? Download this image for social media or your email footer.
Don't forget the #erl20 hashtag!
---
Code of Conduct
ER&L's Code of Conduct and our Commitment to Accessibility and Inclusivity applies to presenters and attendees.
---
Are We Connected?
Don't forget to follow us on Twitter @ERandL.
We're using #erl20 throughout the conference and we retweet liberally. A lot of activity takes place on social media throughout ER&L and we hope you chime in using #erl20.
---
Contact/ Support On-Site
Please contact us at hello@electroniclibrarian.org. Do not hesitate to reach out with any questions.
Need Assistance On-site in Austin? Danielle Sell and Sandy Tijerina are your contacts should you need anything. Feel free to ask for us at Registration.