ER&L's 2020 conference workshop planners have put together a great lineup of expert-led 4-hour workshops to add to your conference experience.
Workshops take place before (Sunday) or after (Wednesday) the conference from 1:00 – 5:00pm at the AT&T Conference Center and include a snack break.
Workshops are available in Austin only and require an additional ticket.
Workshops will not be available via the Online Conference.
---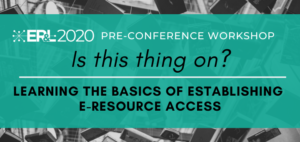 Sunday, March 8, 2020, 1:00pm – 5:00pm
Is this thing on? Learning the basics of establishing E-resource access
Presenters: Vanessa French, Butler University and Josh Petrusa, Butler University
Conference Track: Managing e-Resources & Licensing
Taking over E-Resources management? Broadening your skills for a job search? This workshop is designed to show attendees the basic components of establishing access to e-resources, from acquisitions to authentication, including payment, acquisition models, management and discovery systems, user interfaces, publisher platforms, linking, and all the various vendors and consortia which might play a role. The presenters will help you analyze and understand the systems and resources in place at your own library, and connect you with resources to understand them better after you've returned from Austin. The workshop is intended to be followed up with a conference session on troubleshooting e-resources access problems, giving attendees the skills to identify, resolve, and track a variety of electronic resource access issues, from simple to complex, once they understand how that access should be functioning.

---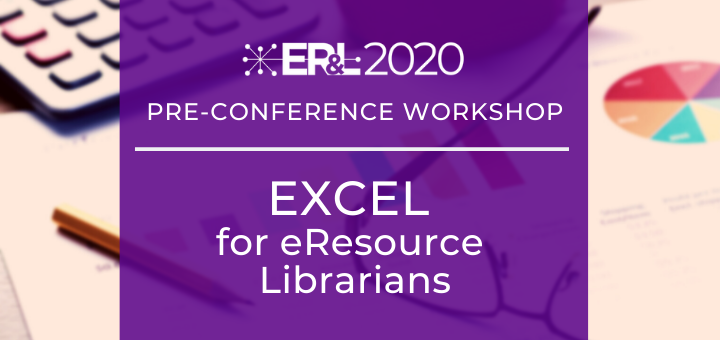 Sunday, March 8, 2020, 1:00pm – 5:00pm
Excel for eResource Librarians
Presenters: Kelly Smith, Eastern Kentucky University & Jens Arneson, Eastern Kentucky University
Conference Track: Managing e-Resources & Licensing
Excel is a valuable tool for eResource librarians – from workflow support, to usage data gathering and analysis, to demonstrating library impact. Unfortunately, many of us can't fit in the time in our day to day work to learn advanced Excel techniques that would make us more efficient and effective. In this workshop, attendees will learn why and how to use advanced tools such as pivot tables, conditional formatting, data tools, and charting functionality.

---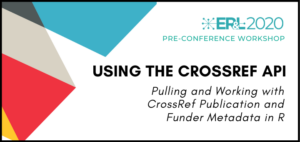 Sunday, March 8, 2020, 1:00pm – 5:00pm
Using the Crossref API: Pulling and working with Crossref publication and funder metadata in R
Presenters: Patricia Feeney, Crossref & Clarke Iakovakis, Oklahoma State University
Conference Track: Data Science & Libraries
This workshop will begin with an overview of Crossref and the Crossref API. Crossref is a not-for-profit membership organization for scholarly publishing working to make content easy to find, cite, link, assess, and re-use. The Crossref REST API is a unique resource of free, in-depth publisher metadata that is used by the entire lifecycle of global scholarly communications, from funders to publishers to metadata aficionados of all kinds. The API lets anyone search, filter, facet and sample Crossref metadata related to over 106 million content items with unique Digital Object Identifiers (DOIs).  Crossref metadata includes a wealth of metadata that can help libraries with literature reviews, collect citation metadata, populate bibliographies with identifiers, track funding information, and more.
Following this overview, participants will use the rcrossref package in R (developed by rOpenScie) to query and extract data from the Crossref API. R is a programming language used to work with data (and metadata). Participants will work through scripts hosted on an interactive cloud-based R coding platform (Microsoft Azure Notebooks). Experience in R is helpful but not required.
This workshop will be of particular value to those working in scholarly communications and collection analysis. Participants will learn how to pull publication metadata by ISSN and article metadata by citation details such as title, author, and DOI, to get back citation counts, open access status, author ORCID iDs, and funder details. From here they can determine if publications are eligible for deposit in a repository, write RIS/BibTeX files, and conduct bibliometric analyses.

---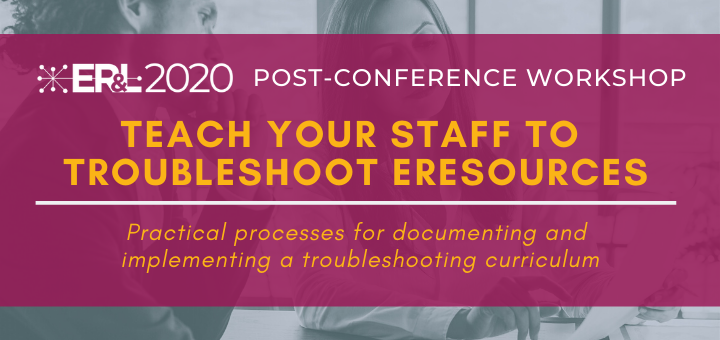 Wednesday, March 11, 2020, 1:00pm – 5:00pm
Presenters: Sunshine Carter, University of Minnesota & Stacie Traill, University of Minnesota
Conference Track: Managing e-Resources & Licensing
E-resource troubleshooting is an increasingly complex and time-consuming activity in the era of web-scale discovery. With multiple systems and access pathways involved, effective problem solving requires a sophisticated bundle of knowledge, skills, and tools. How can librarians and staff become effective and efficient troubleshooters? Through hands-on activities and group discussions, workshop participants will learn several practical approaches to documenting their e-resource access environment, systems, and troubleshooting methods, then create a framework for their own e-resources troubleshooting curriculum. Presenters will cover key concepts and troubleshooting tools, and help participants understand how to apply those concepts and tools in their own discovery and access environments. Participants will also learn how to evaluate training effectiveness, along with strategies for practical reinforcement of troubleshooting techniques and skills. The presenters work in an Alma/Primo discovery environment, but this workshop is intended to be system agnostic. Participants will leave this session with drafts of training documents specific to their own environments.

---
Wednesday, March 11, 2020, 1:00pm – 5:00pm
Presenters: Katharine V. Macy, IUPUI University Library & Caitlin A. Pike, IUPUI University Library
Conference Track: External Relationships
This workshop is designed to teach a framework for planning and conducting negotiations based on negotiation best practices found in the literature. Participants who are new to negotiating or those with negotiating experience but without formal training will find the content of this workshop useful. It should appeal to multiple audiences, people new to the field of e-resource management as well as experienced practitioners who desire more negotiation training.